October 24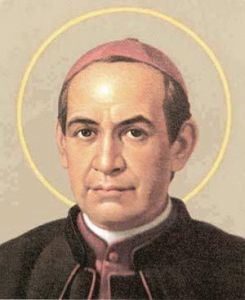 Born: 1807 in Spain.
Died: 1870 in France.
Worked as a weaver in his youth. Seminary student with Saint Francisco Coll Guitart. Ordained on 13 June 1835. Missionary in Catalonia and the Canary Islands. Directed retreats. Founded the Congregation of Missionary Sons of the Immaculate Heart of Mary (Claretians). Archbishop of Santiago de Cuba on 20 May 1850. Founded the Teaching Sisters of Mary Immaculate. Following his work in the Caribbean, Blessed Pope Pius IX ordered Anthony back to Spain. Confessor to Queen Isabella II, and was exiled with her. Had the gifts of prophecy and miracles. Reported to have preached 10,000 sermons, published 200 works. Spread devotion to the Blessed Sacrament and the Immaculate Heart of Mary.
Prayer...
Saint Anthony Mary Claret, during your life on earth you often comforted the afflicted and showed such tender love and compassion for the sick and sinful. Intercede for me now that you rejoice in the reward of your virtues in heavenly glory. Look with pity on me and grant my prayer, if such be the will of God. Make my troubles your own. Speak a word for me to the Immaculate Heart of Mary to obtain by her powerful intercession the grace I yearn for so ardently, and a blessing to strengthen me during life, assist me at the hour of death, and lead me to a happy eternity. Amen.