November 1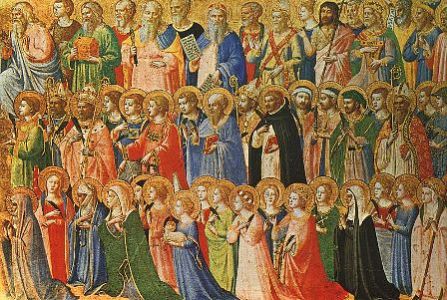 Instituted to honor all the saints, known and unknown. It owes its origin in the Western Church to the dedication of the Roman Pantheon in honor of the Blessed Virgin Mary and all the martyrs by Pope Saint Boniface IV in 609, the anniversary of which was celebrated at Rome on 13 May. Pope Saint Gregory III consecrated a chapel in the Vatican basilica in honor of All Saints, designating 1 November as their feast. Pope Gregory IV extended its observance to the whole Church. It has a vigil and octave, and is a holy day of obligation; the eve is popularly celebrated as Halloween.
All Saints Prayer....
Father, All-Powerful and ever-living God,
today we rejoice in the holy men and women
of every time and place.
May their prayers bring us your forgiveness and love.
We ask this in the name of Jesus Christ our Lord. Amen.