July 3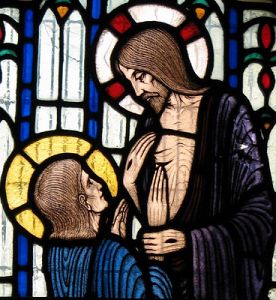 Martyred, c.72
Stabbed with a spear while in prayer in India.
Apostle. He was ready to die with Jesus when Christ went to Jerusalem, but is best remembered for doubting the Resurrection until allowed to touch Christ's wounds. Preached in Parthia, Persia and India, though he was so reluctant to start the mission that he had to be taken into slavery by a merchant headed that way. He eventually gave in to God's will, was freed, and planted the new Church over a wide area. He formed many parishes and built many churches along the way. An old tradition says that Thomas baptized the wise men from the Nativity into Christianity.
O Glorious Saint Thomas, your grief for Jesus was such that it would not let you believe he had risen unless you actually saw him and touched his wounds. But your love for Jesus was equally great and it led you to give up your life for him. Pray for us that we may grieve for our sins which were the cause of Christ's sufferings. Help us to spend ourselves in his service and so earn the title of "blessed" which Jesus applied to those who would believe in him without seeing him. Amen.
St. Thomas the Apostle, pray for us!