November 28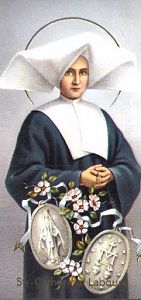 1806-1876
Born in Burgundy, France.
Ninth of eleven children born to a farm family, and from an early age Catherine felt a call to the religious life. Never learned to read or write. Forced to take over running the house at age eight after her mother died and her older sister joined the Sisters of Charity. Worked as a waitress in her uncle's cafe in Paris, France. Upon entering a hospital run by the Sisters of Charity she received a vision in which Saint Vincent de Paul told her that God wanted her to work with the sick, and she later joined the Order, taking the name Catherine.
On 18 July 1830 she had a vision of Our Lady who described to her a medal which she wished struck. On one side it has the image of Our Lady, and the words, "O Mary, conceived without sin, pray for us who have recourse to thee"; on the other are the hearts of Jesus and Mary. Our Lady told Catherine that wearers of the medal would receive great graces, it has become known as the Miraculous Medal, and its wearing and devotion has spread worldwide. Miracles reported at her tomb.
"Whenever I go to the chapel, I put myself in the presence of our good Lord, and I say to him, Lord I am here. Tell me what you would have me to do. If he gives me some task, I am content and I thank him. If he gives me nothing, I still thank him since I do not deserve to receive anything more than that. And then, I tell God everything that is in my heart. I tell him about my pains and joys, and then I listen. If you listen, God will also speak to you, for with the good Lord, you have to both speak and listen. God always speaks to you when you approach him plainly and simply." - St. Catherine Laboure