December 2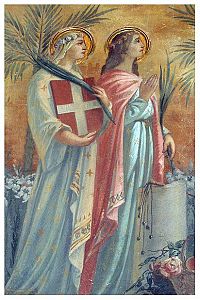 Italian.
Martyred, 361.
Patroness of the City of Los Angeles
Her parents, Saint Flavian of Acquapendente and Dafrosa of Acquapendente, were martyred in the persecutions of Julian the Apostate, and Vivian and her sister Demetria were turned over to a woman named Rufina who tried to force them into prostitution. Upon her continued refusal to co-operate, Vivian was imprisoned in a mad house, then flogged to death.
Prayer...
O God, the giver of all good gifts, in Your servant Vibiana You joined the flower of virginity with the palm of martyrdom; be pleased, by her intercession, to join our souls by charity to You, so that all dangers being removed, we may obtain our eternal reward. Through our Lord Jesus Christ, Your Son, who lives and reigns with You in the unity of the Holy Spirit, for ever and ever. Amen.
Saint Vibiana, pray for the City of Los Angeles!