December 16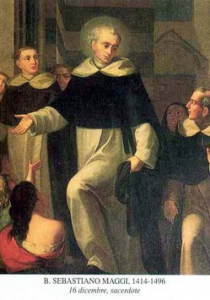 Italian.
1414-1496, body was still incorrupt in 1963
Joined the Dominicans in Brescia at age 15 in 1429, the youngest that he could, and spent the next 67 years as a zealous and reforming friar. Superior of several Dominican houses. Vicar of a reformed congregation of Lombardy. Known for his personal strict adherence to the rules, and his gentle ways with those who could not live so strictly. Died while en route to a convent for a mission.
Prayer...
God of faithfulness, you made Blessed Sebastian and outstanding example of evangelical perfection and truth. By following his example may we enter the path to perfect charity and deepen the life of the spirit through penance and so obtain your glory and eternal life. Amen.