January 10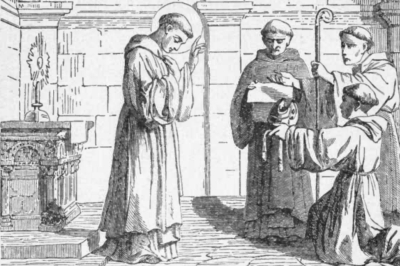 Born: 12th Century in Nevers, France.
Died: 1209 at Bourges, France while in prayer.
Member of the family of the Counts of Nevers, his father Baldwin planned a military life for William. Educated by his maternal uncle, Peter the Hermit, archdeacon of Soissons, France. Drawn to religious life from an early age, William became a priest, canon of Soissons, and canon of Paris. Monk in the Order of Grandmont, noted for his austerities, his devotion to the Blessed Sacrament, and for the time spent praying at the altar. Internal dissension in the Order caused him to leave Grandmont for the recently formed Cistercians, taking the habit at Pontigny. Abbot at Fontaine-Jean in Sens, France. Abbot at Chaalis near Senlis, France in 1187.
Reluctant archbishop of Bourges, France in 1200, accepting the position only after receiving orders from the general of his order, and from Pope Innocent III. Lived an even more austere life, defended clerical rights against the state, cared personally for the poor, sick, imprisoned and debauched, and converted many Albigensians in his diocese to orthodox Christianity. Witnesses claim he performed 18 miracles during his life, and another 18 after his death.
Prayer...
St. William, you were a father to your monks and a shepherd to your people.
Pray now before God's heavenly altar that we might form a truly Eucharistic community, alert to the Presence of Christ in our hearts and in our church, eager to share our Catholic faith with people everywhere, and especially intent on welcoming our disadvantaged brothers and sisters. Amen.