January 12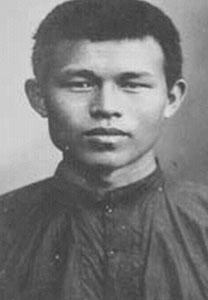 1895-1944
Beatified by Pope John Paul II in March, 2000
One of six children. His parents were converts, and he was raised as a Christian. Entered the Hang Xan Minor Seminary at age 13, and the Penang Major Seminary, Malaysia in 1920. Ordained in the archdiocese of Bangkok, Thailand in 1926. Pastor at Bang Nok Khneuk and Phitsanulok. Missionary to northern Vietnam from 1930 to 1937, working to bring back Catholics who had fallen from their practice due to poverty.
When war broke out between France and Indochina, Nicholas was accused of spying for the French. In 1941 he was arrested and sentenced to 10 years in prison. There he contracted tuberculosis which, with the hardships of prison, eventually killed him, but not before he spent two years bringing the faith to his fellow prisoners, baptizing at least 68. Thailand's first martyr priest.
Blessed Nicholas, pray for us!