January 24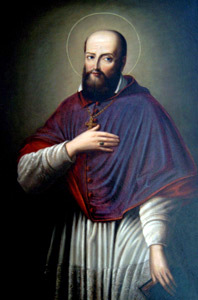 Born: 1567, Chateau de Thorens, Savoy (part of modern France)
Died: 1622, Lyon, France
Born in the castle of Chateau de Thorens to a well-placed Savoyard family, the eldest of twelve children born to Francois de Boisy and Francoise de Sionnz. His parents intended that Francis become a lawyer, enter politics, and carry on the family line and power. He studied at La Roche and Annecy in France, taught by Jesuits. Attended the College de Clermont in Paris, France at age 12. In his early teens, Francis began to believe in pre-destination, and was so afraid that he was pre-emptorily condemned to Hell that he became ill and eventually was confined to bed. However, in January 1587 at the Church of Saint Stephen, he overcame the crisis, decided that whatever God had in store for him was for the best, and dedicated his life to God.
Studied law and theology at the University of Padua, Italy, and earned a doctorate in both fields. He returned home, and found a position as Senate advocate. It was at this point that he received a message telling him to "Leave all and follow Me." He took this as a call to the priesthood, a move his family fiercely opposed, especially when he refused a marriage that had been arranged for him. However, he pursued a devoted prayer life, and his gentle ways won over the family.
Priest. In 1593 he was appointed provost of the diocese of Geneva, Switzerland, a stronghold of Calvinists. Preacher, writer and spiritual director in the district of Chablais. His simple, clear explanations of Catholic doctrine, and his gentle way with everyone, brought many back to the Roman Church. He even used sign language in order to bring the message to the deaf, leading to his patronage of deaf people.
Bishop of Geneva in 1602. He traveled and evangelized throughout the Duchy of Savoy, working with children whenever he could. Friend of Saint Vincent de Paul. He turned down a wealthy French bishopric to continue working where God had placed him. With Saint Jeanne de Chantal he helped found the Order of the Visitation . A prolific correspondent, many of his letters have survived.
The value of his writings led to his being declared a Doctor of the Church by Pope Blessed Pius IX in 1877, and a patron of writers and journalists by Pope Pius XI in 1923. The Salesians of Don Bosco, the Oblates of Saint Francis de Sales, and the Missionaries of Saint Francis de Sales are named in his honor as is the Saint Francois Atoll in the Seychelles Islands.
"Do not lose courage in considering your own imperfections, but instantly set about remedying them." - Saint Francis de Sales