April 20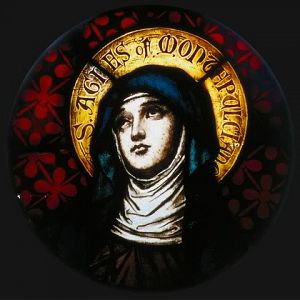 Italian, 1268-1317
She was admitted to the convent at Montepulciano, Italy at age nine. When her spiritual director was appointed abbess at Procena, she took Agnes with her. Agnes's reputation for holiness attracted other sisters. Abbess at age fifteen after receiving special permission from Pope Nicholas IV. Agnes insisted on greater austerities in the abbey; she lived off bread and water, slept on the ground, used a stone for a pillow. In 1298, she returned to Montepulciano to work in a new Dominican convent. Prioress of the house the last seventeen years of her life.
Prayer...Merciful God, you adorned Agnes of Montepulciano, your bride, with a marvelous fervor in prayer. By imitating her example, may we always hold fast to you in spirit and so come to enjoy the abundant fruits of holiness. St. Agnes never faltered in her deep devotion and love for You. Dear Father, may we also appreciate the spiritual things more than the things of this world and give to You our greatest devotion. In Christ's name we pray.
Amen.
St. Agnes of Montepulciano, pray for us!