May 4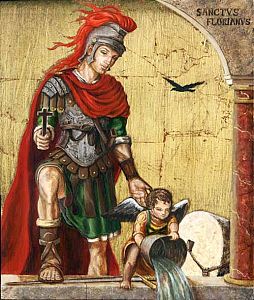 Martyred, 304
Third century officer in Roman army stationed in modern Austria. Military administrator of the town of Noricum, and a closet Christian. Said to have stopped a town from burning by praying and throwing a single bucket of water on the blaze, and thus his association with firefighters and those who protect us from fire, including chimney sweeps. When ordered to execute a group of Christians during the persecutions of Diocletian, he refused, and professed his own faith. Martyr.
Prayer for Firefighters and Paramedics....
Heavenly Father, I pray for the firefighters and paramedics of our nation. Thank You for their courage, dedication, and commitment in serving. I thank You for their bravery and willingness to sacrifice their own well-being and many times risk their own lives in the service of others.
I pray for their protection. Keep them safe from harm and injury. Give them Your wisdom and guidance when faced with crucial decisions. Encourage and strengthen them mentally, physically, emotionally, and spiritually. Help them to overcome the stress and hardships that accompany their occupation.
May Your blessings be upon their homes and families. Give their families peace, comfort, courage and strength to cope with the sacrifices that are required.
I pray people everywhere would take time to pray for and personally give a word of encouragement and support to the rescue workers of their community. God bless all rescue workers! Amen.
St. Florian, pray for us!