May 5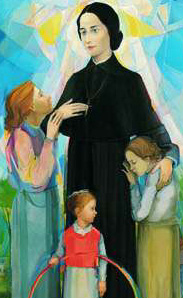 Born & Died in Bergamo, Italy. 1801-1857.
Daughter of Giovanni Battista and Magherita Lanzani. Her mother died when Caterina was seven, and her father abandoned the girl and her younger sister Giuditta. They were accepted and grew up at the orphanage, the Conventino of Bergamo. There she developed a strong faith, a big sister's sense of responsibility, and a devotion to Our Lady and St. Jerome Emiliani.
The sisters left the orphanage in 1823 to live with their cousins Giovanni and Antonio Cittadini, both parish priests at Calolzio, Italy. Caterina became a teacher at a girl's public school in Somasca in 1824. The sisters felt a call to the religious life; their spiritual director recommended that they should stay in Somasca, and become the basis of a new congregation.
In 1826 the sisters rented a house in Somasca, bought and furnished a building, and in October opened a boarding school for girls. Caterina taught religion, managed the school, and instituted the oratory style of education for her girls. Word of her success spread, attracting more students. The sisters established another "Cittadini" private school in 1832, and another in 1836.
Giuditta directed these new school until her sudden death in 1840. Caterini's cousin, Father Antonio Cittadini, died in 1841, followed quickly by the death of her spiritual director from the orphanage. The rapid succession of tragedy ruined Caterina's health, and she fell gravely ill;she was cured through the intercession of St. Jerome Emiliani.
Caterina quit her public teaching position in 1845 to manage the schools, care for the orphans, and guide the three companions who helped her. To help organize the work and lives of her companions, she wrote the beginnings of a new rule similar to that of other religious orders. In 1850 she obtained permission to build a private oratory to keep the Blessed Sacrament at her boarding school. In 1851 she applied for approval of her new religious family.
In 1854 her bishop encouraged her work, and told her to write the rules of the new order; her first attempt, based on the Constitution of the Ursulines of Milano was rejected. A second attempt was accepted on 17 September 1854 under the title Orsoline Gerolimiane (Ursuline Sisters of Somasca). On 14 December 1857, a few months after her death, the bishop of Bergamo gave his approval; the order achieved papal recognition on 8 July 1927. The order's mandate is to teach, and to care for the abandoned. Today they work in Italy, Switzerland, Belgium, Brazil, Bolivia, India, and the Philippines.
"Left an orphan at a very tender age, she became an affectionate mother to orphans. She wanted her spiritual daughters to be 'mothers' in schools and in contact with children. The secret was union with the Eucharist." - Pope John Paul II
Blessed Caterina Cittidini, pray for us!