May 14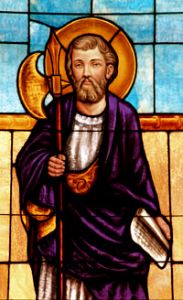 Apostle, stoned to death at Colchis in 80.
As St. Matthias could bear witness to the Resurrection of Jesus, he was chosen to replace Judas Iscariot. He preached the Gospel for more than 30 years in Judea, Cappadocia, Egypt and Ethiopia. Martyr.
Prayer to St. Matthias the Apostle....
O Glorious Saint Matthias, in God's design it fell upon you to take the place of the unfortunate Judas who betrayed his Master. You were selected by the twofold sign of the uprightness of your life and the call of the Holy Spirit. Obtain for us the grace to practice the same uprightness of life and to be called by that same Spirit to wholehearted service of the Church. Then after a life of zeal and good works let us be ushered into your company in heaven to sing forever the praises of Father, Son, and Holy Spirit. Amen.
St. Matthias the Apostle, pray for us!