May 13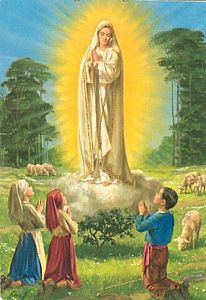 Our Lady of Fatima is a title for the Virgin Mary due to her apparitions to three shepherd children at Fatima, Portugal on the thirteenth day of six consecutive months in 1917, beginning on May 13. The three children were Lucia Santos and her cousins Jacinta and Francisco Marto.
Prayer to Our Lady...
Queen of the Rosary, sweet Virgin of Fatima, who has deigned to appear in the land of Portugal and has brought peace, both interior and exterior.
Bring back peace to all nations of the world, so that all, and our own nation in particular, may be happy to call you their Queen and the Queen of Peace.
Our Lady of the Rosary, pray for our country. Our Lady of Fatima, obtain for all humanity a durable peace. Amen.