June 11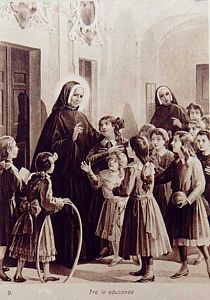 Italian. 1809-1882
Paula (also know as Paola) was born in Genoa. Her brother was a parish priest in the city, and she assisted him by teaching poor children in their parish. From this humble beginning in 1834 began the Congregation of St. Dorothy, which soon spread across Italy and then to the Americas. Beatified in 1930, she was canonized in 1984, by Pope John Paul II.
Paula advised one young Sister: "You must be a visible guardian angel to your children but a quick-eyed angel, alive to all their needs. Watch over them with vigilance and prudence, but let them feel you trust them." Paula was especially sensitive to disfigured children, whom she called "pictures of God without a frame."
St. Paula Frasinetti, pray for us!