June 12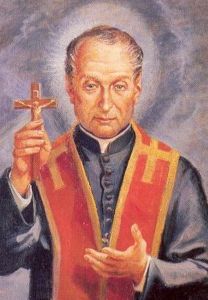 Born: 1777, Verona Italy.
Died: 1853
Bertoni commenced his studies for the priesthood in 1796. In June 1796, around the time of the French Revolution, troops from France began a two decade occupation of the northern Italian cities. Bertoni joined the Gospel Fraternity for Hospitals and worked to help those wounded and ill while also focusing on those who were displaced or otherwise harmed due to the effects of the occupation. He was ordained as a priest on 20 September 1800.
Bertoni served as the chaplain to the Daughters of Charity, founded by Magdalene of Canossa, while also serving as the spiritual director of the seminary. He was also one of the leaders to offer prayers and support for Pope Pius VII when he was imprisoned by Napoleon Bonaparte. His pastoral work was marked with the establishment of the Marian Oratories and the devotion to the Five Wounds of Christ. He also established schools for the poor. He founded the Congregation of the Sacred Stigmata of Our Lord Jesus Christ (the Stigmatines) in November 1816. The first written Constitution for the Congregation was based on the Constitutions of St. Ignatius Loyola, founder of the Society of Jesus. As of 2012 there were reported to be 94 houses with 422 members including 331 priests.
Prayer...
Father, you inspired your Servant and Priest, Gaspar Bertoni, to dedicate himself to the service of the Church, living and preaching the sufferings of Christ. Grant that, following his example, we may be faithful workers in your vineyard and heralds of your word. We ask this through our Lord Jesus Christ, your son, who lives and reigns with you and the Holy Spirit, one God, forever and ever. Amen.
St. Gaspar, pray for us!