June 12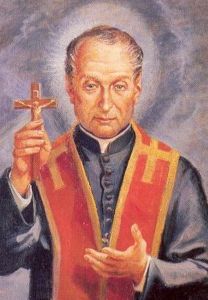 Born: 1777, Verona Italy.
Died: 1853
Gaspar founded the Order of the Stigmatines in 1816. The first written Constitutions for the Congregation was based on the Constitutions of St. Ignatius Loyola, founder of the Society of Jesus. The growth of the Community was slow, in 1905 Stigmatines went to the USA, and in 1910 they started activities in Brazil.For nearly two centuries, the Stigmatines worked in China, Thailand and the Philippines, various countries in Africa and Latin America. In the year 2002, the Stigmatines settled in India.
Prayer...
Father, you inspired your Servant and Priest, Gaspar Bertoni, to dedicate himself to the service of the Church, living and preaching the sufferings of Christ. Grant that, following his example, we may be faithful workers in your vineyard and heralds of your word. We ask this through our Lord Jesus Christ, your son, who lives and reigns with you and the Holy Spirit, one God, forever and ever. Amen.
St. Gaspar, pray for us!