June 13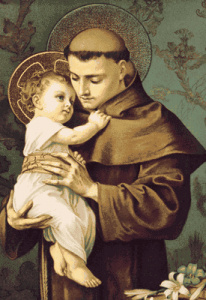 Born: 1195 in Lisbon, Portugal
Died: 1231, of natural causes
Few saints are as loved and admired in the Catholic Church than Saint Anthony of Padua, a Doctor of the Church. Though his work was in Italy, he was born in Portugal. He first joined the Augustinian Order and then left it and joined the Franciscan Order in 1221, when he was 26 years old. The reason he became a Franciscan was because of the death of the five Franciscan protomartyrs -- St. Bernard, St. Peter, St. Otho, St. Accursius, and St. Adjutus -- who shed their blood for the Catholic Faith in the year 1220, in Morocco, in North Africa, and whose headless and mutilated bodies had been brought to St. Anthony's monastery on their way back for burial. St. Anthony became a Franciscan in the hope of shedding his own blood and becoming a martyr. He lived only ten years after joining the Franciscan Order. Saint Anthony was only 36 years old when he died. He was canonized less than one year after his death.
So simple and resounding was his teaching of the Catholic Faith, so that the most unlettered and innocent might understand it, that he was made a Doctor of the Church by Pope Pius XII in 1946.
"...the apostles "spoke as the Spirit gave them the gift of speech." Happy the man whose words issue from the Holy Spirit and not from himself!
We should speak, then, as the Holy Spirit gives us the gift of speech. Our humble and sincere request to the Spirit for ourselves should be that we may bring the day of Pentecost to fulfillment, insofar as he infuses us with his grace, by using our bodily senses in a perfect manner by keeping the commandments. Likewise we shall request that we may be filled with a keen sense of sorrow and with fiery tongues for confessing the faith so our deserved reward may be to stand in the blazing splendor of the saints and to look upon the triune God." - from a sermon by St. Anthony of Padua
St. Anthony's Blessing........
Behold, the Cross of the Lord!
Begone, all evil powers!
The Lion of the tribe of Judah,
The Root of David, has conquered!
Alleluia, Alleluia!
St. Anthony, pray for us!