June 14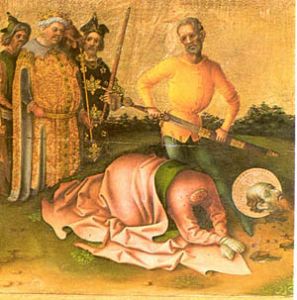 Martyred: 287
Sts. Valerius and Rufinus have been well-known martyrs since the time of the early Church. They died in a town called Soissons, north of present-day Paris, towards the end of the third century. The two were part of a group of missionaries who were sent to evangelize that region.
When the empire began persecuting Christians, they fled to a cave in a nearby forest. They were found, however, arrested, and brought to trial. When they made a bold profession of faith, they were beaten, tortured, and beheaded.
The relics of St. Valerius rest in the reliquary chapel in the Basilica, and St. Rufinus is one of the 140 saints that are depicted in statues that stand atop the colonnade in front of St. Peter's Basilica in Rome.
Prayer to the Holy Martyrs.....
Glorious champions of Jesus Christ, who have fought the battle of martyrdom and have exchanged this bitter struggle for the peace of the angels in heaven, turn your eyes on me, a poor creature beset on all sides by spiritual dangers. Amid these troubles, I call to mind your great renown. You saints who overcame bodily torment to take heaven by storm, who vanquished the pleasures of the world and who set your eyes on heaven, look with affection on me. Add to the glory of your triumph by your intercession with God, so that I too may gain victory over the corruption of this world and its empty pomp. Blessed warriors, what comfort, what inspiration and joy it is for us to praise you and to follow in your footsteps. Your names and memories are held sacred. You who are true champions of God hasten to help me in my weakness. Give me strength to reach the heavenly kingdom where I may rejoice with you forever. Amen.
St. Valerius & Rufinus, pray for us!