June 20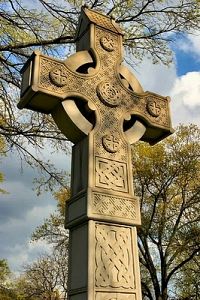 Beatified By: September 27, 1992 by Pope John Paul II
Irish Catholic Martyrs were people who have been sanctified in varying degrees for dying for their Roman Catholic faith between 1537 and 1714 in Ireland.
The seventeen Irish Martyrs are:
Bishop Patrick O' Healy
Fr. Conn O'Rourke
Margaret Bermingham
Dr. Dermot O'Hurley
Fr. Maurice MacKenraghty
Dominic Collins
Bishop Cornelius O'Devany
Fr. Patrick O'Loughran
Francis Taylor
Fr. Peter Higgins
Bishop Terence Albert O'Brien
Fr. John Kearney
Fr. William Tirry
Matthew Lambert
Robert Myler
Edward Cheevers
Patrick Cavanagh.
"But the souls of the righteous are in the hand of God, and no torment will ever touch them. In the eyes of the foolish they seemed to have died, and their departure was thought to be an affliction, and their going from us to be their destruction; but they are at peace." Wisdom 3:1-3
Holy Martyrs of Ireland, pray for us!