June 21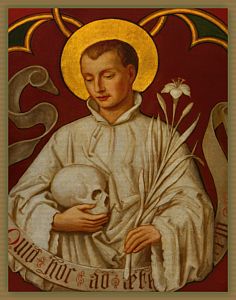 Italian. 1568-1591
St. Aloysius was born in Castiglione, Italy. He was destined for the military by his father (who was in service to Philip II), but by the age of 9 Aloysius had decided on a religious life. St. Charles Borromeo gave him his first Holy Communion. A kidney disease prevented St. Aloysius from a full social life for a while, so he spent his time in prayer and reading the lives of the saints. Although he was appointed a page in Spain, St. Aloysius kept up his many devotions and austerities, and was quite resolved to become a Jesuit. His family eventually moved back to Italy, where he taught catechism to the poor. When he was 18, he joined the Jesuits, after finally breaking down his father, who had refused his entrance into the order. He served in a hospital during the plague of 1587 in Milan, and died from it at the age of 23, after receiving the last rites from St. Robert Bellarmine. The last word he spoke was the Holy Name of Jesus. St. Robert wrote the Life of St. Aloysius.
Prayer....
O Holy Mary! My Mother; into thy blessed trust and special custody, and into the bosom of thy mercy, I this day, and every day, and in the hour of my death, commend my soul and body. To thee I commit all my anxieties and sorrows, my life and the end of my life, that by they most holy intercession, and by thy merits, all my actions may be directed and governed by thy will and that of thy Son. Amen. - St. Aloysius Gonzaga
St. Aloysius Gonzaga, pray for us!