October 5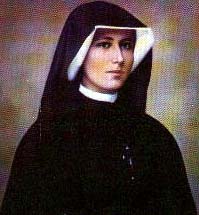 Polish.
1905-1938
Third of ten children, she attended only three years of school. As a teenager, she worked as a domestic servant for other families. After being rejected by several religious orders, she became a nun in the Congregation of the Sisters of Our Lady of Mercy in Warsaw, Poland on 1 August 1925; the Congregation is devoted to care and education of troubled young women. She changed her name to Sister Maria Faustina of the Most Blessed Sacrament. During her 13 years in various houses, she was a cook, gardener, and porter.
She had a special devotion to Mary Immaculate, to the Sacrament, and to Reconciliation, which led to a deep mystical interior life. She began to have visions, receive revelations, and experience hidden stigmata. She began recording these mystical experiences in a diary; being nearly illiterate, it was written phonetically, without quotation marks or punctuation, and runs to nearly 700 pages. A bad translation reached Rome in 1958, and was labelled heretical. However, when Karol Wojtyla (Pope John Paul II) became Archbishop of Krakow, he was besieged by requests for a reconsideration. He ordered a better translation made, and Vatican authorities realized that instead of heresy, the work proclaimed God's love. It was published as Divine Mercy in my Soul.
In the 1930's, Sister Faustina received a message of mercy from Jesus that she was told to spread throughout the world, a message of God's mercy to each person individually, and for humanity as a whole. Jesus asked that a picture be painted of him with the inscription: "Jesus, I Trust in You." She was asked to be a model of mercy to others, to live her entire life, in imitation of Christ's, as a sacrifice. She commissioned this painting in 1935, showing a red and a white light shining from Christ's Sacred Heart.
Apostles of Divine Mercy is a movement of priests, religious, and lay people inspired by Faustina's experiences; they spread knowledge of the mystery of Divine Mercy, and invoke God's mercy on sinners. Approved in 1996 by the Archdiocese of Krakow, it has spread to 29 countries.
Prayer of St. Faustina before the Eucharist...
I adore You, Lord and Creator, hidden in the Most Blessed Sacrament. I adore You for all the works of Your hands, that reveal to me so much wisdom, goodness and mercy, O Lord. You have spread so much beauty over the earth and it tells me about Your beauty, even though these beautiful things are but a faint reflection of You, incomprehensible Beauty. And although You have hidden Yourself and concealed Your beauty, my eye, enlightened by faith, reaches You and my soul recognizes its Creator, its Highest Good, and my heart is completely immersed in prayer of adoration.
My Lord and Creator, Your goodness encourages me to converse with You. Your mercy abolishes the chasm which separates the Creator from the creature. To converse with You, O Lord, is the delight of my heart. In You I find everything that my heart could desire. Here You light illumines my mind, enabling it to know You more and more deeply. Here streams of graces flow down upon my heart. Here my soul draws eternal life. O my Lord and Creator, You alone, beyond all these gifts, give Your own self to me and unite Yourself intimately with Your miserable creature.
O Christ, let my greatest delight be to see You loved and Your praise and glory proclaimed, especially the honor of Your mercy. O Christ, let me glorify Your goodness and mercy to the last moment of my life, with every drop of my blood and every beat of my heart. Would that I be transformed into a hymn of adoration of You. When I find myself on my deathbed, may the last beat of my heart be a loving hymn glorifying Your unfathomable mercy. Amen.