October 6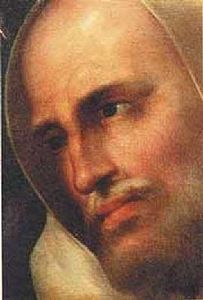 1030-1101
Born in Cologne, Germany.
Died in Calabria, Italy.
Educated in Paris and Rheims, France. Ordained c.1055. Taught theology; one of his students later became Pope Blessed Urban II. Presided over the cathedral school at Rheims from 1057 to 1075. Criticized the worldliness he saw in his fellow clergy. He opposed Manasses, Archbishop of Rheims, because of his laxity and mismanagement. Chancellor of the archdiocese of Rheims. Following a vision he received of a secluded hermitage where he could spend his life becoming closer to God, he retired to a mountain near Chartreuse in Dauphiny in 1084 and with the help of Saint Hugh of Grenoble, he founded what became the first house of the Carthusian Order; he and his brothers supported themselves as manuscript copyists. Assistant to Pope Urban II in 1090, and supported his efforts at reform. Retiring from public life, he and his companions built a hermitage at Torre, where, 1095, the monastery of Saint Stephen was built. Bruno combined in the religious life the eremetical and the cenobitic; his learning is apparent from his scriptural commentaries.
"Rejoice, my dearest brothers, because you are blessed and because of the bountiful hand of God's grace upon you. Rejoice, because you have escaped the various dangers and shipwrecks of the stormy world. Rejoice because you have reached the quiet and safe anchorage of a secret harbor. Many wish to come into this port, and many make great efforts to do so, yet do not achieve it. Indeed many, after reaching it, have been thrust out, since it was not granted them from above. By your work you show what you love and what you know. When you observe true obedience with prudence and enthusiasm, it is clear that you wisely pick the most delightful and nourishing fruit of divine Scripture." - from a letter by Saint Bruno to the Carthusians
Prayer...
Lord God, you called Saint Bruno to serve you in a life of solitude. Amidst this world's changes help us, by his prayers, to set our hearts always on you....
through Christ our Lord. Amen.