October 9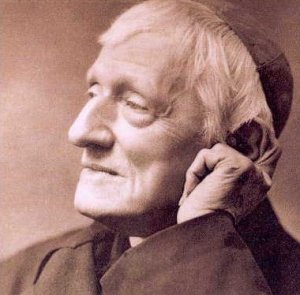 1801-1890
Born in London, England.
Educated at Ealing and Trinity College, Oxford. Chosen a fellow of Oriel College. Ordained an Anglican priest in 1824. Curate of Saint Clement's, Oxford for two years. As he continued his studies he began to be influenced by Catholic writers. Vicar of Saint Mary's in 1828. Resigned his position in 1832. Helped found and guide the Tractarian Movement beginning in 1833. His writings grew more and more in sympathy with Catholicism, and he was forced to resign his position at Saint Mary's. He claimed that his philosophy was a via media (middle way) between Catholicism and Luthero-Calvinism, but he came to see that this idea was just a repetition of old heresies. In 1841 he lived in seclusion with friends at Littlemore, reading, studying, and praying. In 1845 he joined the Catholic Church.
Ordained in Rome, Italy in 1846. Joined the Oratorians. Returned to England in 1847 where he lived in Maryvale, Cheadle, Saint Ann's, Birmingham, and finally Edgbaston where he lived the bulk of his remaining 40 years. Founded the London Oratory. Influential writer on matters of theology, philosophy, and apologetics bringing hundreds into the Church; noted poet. Made an honorary fellow of Trinity College in 1878. Created cardinal in 1879 by Pope Leo XIII.
"I have a place in God's counsels, in God's world, which no one else has;
whether I be rich or poor, despised or esteemed by man,
God knows me and calls me by my name.
God has created me to do Him some definite service;
He has committed some work to me which He has not committed to another.
I have my mission-I never may know it in this life, but I shall be told it in the next.
Somehow I am necessary for His purposes,
as necessary in my place as an Archangel in his
-if, indeed, I fail, He can raise another, as He could make the stones children of Abraham. Yet I have a part in this great work;
I am a link in a chain, a bond of connection between persons.
He has not created me for naught.
I shall do good, I shall do His work;
I shall be an angel of peace,
a preacher of truth in my own place, while not intending it,
if I do but keep His commandments and serve Him in my calling.
Therefore I will trust Him.
Whatever, wherever I am, I can never be thrown away.
If I am in sickness, my sickness may serve Him;
in perplexity, my perplexity may serve Him;
if I am in sorrow, my sorrow may serve Him.
My sickness, or perplexity, or sorrow may be necessary causes of some great end,
which is quite beyond us.
He does nothing in vain; He may prolong my life, He may shorten it;
He knows what He is about.
He may take away my friends,
He may throw me among strangers,
He may make me feel desolate,
make my spirits sink, hide the future from me
-still He knows what He is about."
- Blessed John Henry Newman