October 10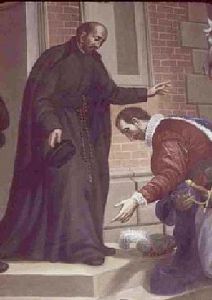 1510-1572
Born in Valencia, Spain.
Died in Ferrara, Italy.
Born to the nobility, the great-grandson of Pope Alexander VI; grandson of King Ferdinand of Aragon; son of Duke Juan Borgia. Raised in the court of King Charles V and educated at Saragossa, Spain. Married Eleanor de Castro in 1529, and the father of eight children. Accompanied Charles on his expedition to Africa, 1535, and to Provence, 1536. Viceroy of Catalonia, 1539-1543. Duke of Gandia, 1543-1550. Widower in 1546.
Friend and advisor of Saint Ignatius of Loyola. Joined the Jesuits in 1548. Ordained in 1551. Notable preacher. Given charge of the Jesuit missions in the East and West Indies. Commissary-general of the Jesuits in Spain in 1560. General of the Jesuits in 1565. Under his generalship the Society established its missions in Florida, New Spain and Peru, and greatly developed its internal structures. Concerned that Jesuits were in danger of getting too involved in their work at the expense of their spiritual growth, he introduced their daily hour-long meditation. His changes and revitalization of the Society led to him being sometimes called the 'Second Founder of the Society of Jesus'. He worked with Pope Saint Pius V and Saint Charles Borromeo in the Counter-Reformation.
Prayer...
O Lord Jesus Christ,
Who art both the example and the reward of true humility:
we beseech Thee that even as Thou
didst make blessed Francis Borgia glorious
by following Thee in despising earthly honors,
so Thou wouldst suffer us also to become his companions
alike in following Thee and in his glory.
Who lives and reigns with God the Father,
in the unity of the Holy Ghost, one God,
world without end. Amen.