November 6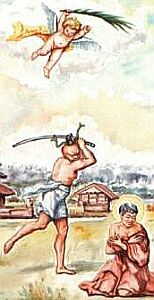 Born in Vietnam, 1832. Martyred (beheaded), 1861.
Canonization, 1988 by Pope John Paul II
Dominican tertiary. Catechist. Servant to Saint Jerome Hermosilla. Tried to help Saint Jerome escape from prison. Captured, he was lashed, tortured, and martyred.
Prayer...
God of all creation,
you gave Joseph Khang the privilege of being counted among the saints who gave their lives in faithful witness to the gospel.
May his prayers give us the courage to share with him the cup of suffering and to rise to eternal glory. We ask this through our Lord Jesus Christ, your Son, who lives and reigns with you and the Holy Spirit, one God, for ever and ever.