November 13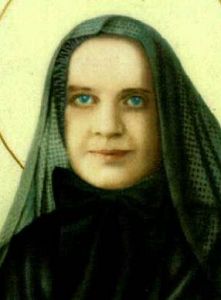 Italian.
1850-1917
One of thirteen children raised on a farm. She received a convent education, and training as a teacher. She tried to join the order at age 18, but poor health prevented her taking the veil. A priest asked her to teach at a girl's school, the House of Providence Orphanage in Cadagono, Italy, which she did for six years. She took religious vows in 1877, and acquitted herself so well at her work that when the orphanage closed in 1880, her bishop asked her to found the Missionary Sisters of the Sacred Heart to care for poor children in schools and hospitals. Pope Leo XIII then sent her to the United States to carry on this mission.
She and six Sisters arrived in New York in 1889. They worked among immigrants, especially Italians. Mother Cabrini founded 67 institutions, including schools, hospitals, and orphanages in the United States, Europe and South America. Like many of the people she worked with, Mother became a United States citizen during her life, and after her death she was the first US citizen to be canonized.
"Let our minds be pure, ...humble and pliant, and then we shall see what beautiful and wonderful things the Holy Spirit will work in our souls." -Mother Cabrini
Note: The land where SCRC is located was once owned by St. Frances Xavier Cabrini & the Order she founded!