November 14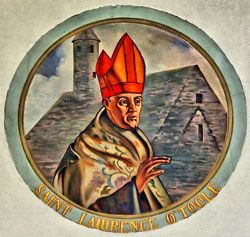 Irish.
1128-1180
Son of the chief of Hy Murray. Taken as a hostage by King Dermot McMurrogh Leinster in 1138 when he was ten years old; Dermot later married Lawrence's sister Mor. He was released in 1140 at age twelve to the Bishop of Glendalough, Ireland. and raised and educated at the monastic school there. Monk at Glendalough, and then abbot in 1153. Declined the bishopric of Glendalough in 1160, citing his unworthiness. Ordered to accept the archbishopric of Dublin, Ireland in 1161, he became the first native-born Irishman to hold the see.
Reformed much of the administration and clerical life in his diocese. Worked to restore and rebuild Christ Church cathedral. As archbishop he accepted the imposition onto Ireland of the English form of liturgy in 1172. Noted for his personal austerity, he wore a hair shirt under his ecclesiastical robes, made an annual 40 day retreat in Saint Kevin's cave, never ate meat, fasted every Friday, and never drank wine - though he would color his water to make it look like wine and not bring attention to himself at table. Acted as peacemaker and mediator at the second siege of Dublin in 1170.
In 1171 he traveled to Canterbury, England on diocesan business. While preparing for Mass there he was attacked by a lunatic who wanted to make Lawrence another Saint Thomas Beckett. Everyone in the church thought Lawrence had been killed by the severe blow to the head. Instead he asked for water, blessed it, and washed the wound; the bleeding stopped, and the archbishop celebrated Mass.
Negotiated the 1175 Treaty of Windsor which made upstart Irish king Rory O'Connor and vassal of king Henry II of England, but ended combat. Attended the General Lateran Council in Rome, Italy in 1179. Papal legate to Ireland. Died while traveling with King Henry II, a trip taken as a peacemaker and on behalf of Rory O'Connor. It resulted in his imprisonment and ill-treatment by the king who decided he had had his fill of meddling priests.
Prayer...
We are God's holy and chosen people. God's life and God's Holy Spirit live in us. We are called to be saints like Lawrence O'Toole and all the Saints. May all the Saints pray for us. May each one of us, as Jesus asks us to be, the light of the world and the salt of earth. May we follow the example of Lawrence O'Toole and be a beacon for peace, reconciliation and justice in our world. Amen.