November 16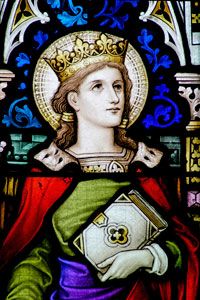 1045-1093
Granddaughter of King Edmund Ironside of England. Great-niece of Saint Stephen of Hungary. Born in Hungary while her family was in exile due to the Danish invasion of England, she still spent much of her youth in the British Isles. While fleeing the invading army of William the Conqueror in 1066, her family's ship wrecked on the Scottish coast. They were assisted by King Malcolm III Canmore of Scotland, whom Margaret married in 1070. Queen of Scotland. They had eight children, one of whom was Saint Maud, wife of Henry I. Margaret founded abbeys and used her position to work for justice and improved conditions for the poor.
Prayer...
Loving God,
In every age you call your people to holiness
and raise up among them models of virtue.
I thank you for the life of St. Margaret of Scotland:
a woman of leadership and vision in a dark, chaotic time;
a wife and mother exemplary in patience, dedication and love;
a teacher supported and inspired by a life of learning;
a generous friend and tireless servant to the poor and helpless;
a model of Christian faith and persistent prayerfulness.
Lord, help me to grow rich in the virtues of St. Margaret:
that faith, hope and love might enliven
my relationships with family and friends,
my concern for the education of the young,
and my response to suffering and powerlessness.
Through St. Margaret's intercession,
may I be a source of life and grace;
spreading your message of love.
Through Jesus Christ, Our Lord, Amen.