November 17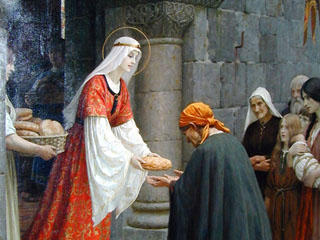 1207-1231
Princess, the daughter of King Andrew of Hungary. Great-aunt of Saint Elizabeth of Portugal. She married Prince Louis of Thuringa at age 13. Built a hospital at the foot of the mountain on which her castle stood; tended to the sick herself. Her family and courtiers opposed this, but she insisted she could only follow Christ's teachings, not theirs. Once when she was taking food to the poor and sick, Prince Louis stopped her and looked under her mantle to see what she was carrying; the food had been miraculously changed to roses. Upon the death of Louis, Elizabeth sold all that she had, and worked to support her four children. Her gifts of bread to the poor, and of a large gift of grain to a famine stricken Germany, led to her patronage of bakers and related fields.
"Apart from those active good works, I declare before God that I have seldom seen a more contemplative woman.
Before her death I heard her confession. When I asked what should be done about her goods and possessions, she replied that anything which seemed to be hers belonged to the poor. She asked me to distribute everything except one worn-out dress in which she wished to be buried. When all this had been decided, she received the body of our Lord. Afterward, until vespers, she spoke often of the holiest things she had heard in sermons. Then, she devoutly commended to God all who were sitting near her, and as if falling into a gentle sleep, she died." - from a letter by Conrad of Marburg, spiritual director of Saint Elizabeth of Hungary
Prayer to Saint Elizabeth of Hungary
Our father in heaven,
Your servant, Saint Elizabeth brought care to the sick, food to the hungry and hope to the hopeless,
Grant us they blessing that we may follow in her footsteps with love and joy on our hearts.
Amen.