December 10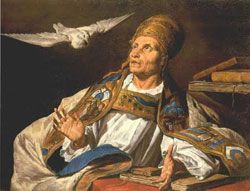 Born in Syria.
Last Pope to be born (to date) outside of Europe.
Died: 741.
Priest at Saint Crisogono Church in Rome, Italy; except that his father's name was John, nothing else is known about his life prior to being elected 90th pope by popular acclamation in 731. Noted for his learning and virtue. The beginning of his pontificate was troubled by the excesses of the iconoclasts. He called a synod in November 731 to condemn iconoclasm; iconoclast leaders responded by seizing papal territories and assets, and insisting on the ecclestiastical allegiance to the Patriarch of Constantinople. The end of Gregory's reign was troubled by the invasions of the Lombards, against these he sought the help of Charles Martel, establishing ties with the French crown that would echo for centuries. Gregory promoted the Church in northern Europe, supporting the missions of Saint Boniface in Germany and Saint Willibald in Bohemia, bestowed palliums on Egbert of York and Saint Tatwine of Canterbury, beautified Rome, and supported monasticism in general.
Prayer...
Pope Saint Gregory III, it's hard to stand still and wait for God to do his work. Sometimes I doubt God's providence. I'm afraid that God's plan won't work out unless I push it along. Intercede for me, when I'm confused, to stop, pray, and wait for God. Amen.