July 6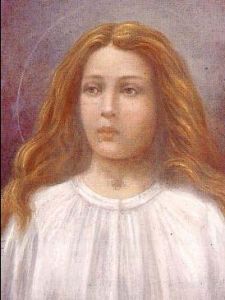 The daughter of a share cropper, Maria Goretti and her family moved
to the little town of Ferriere, Italy in 1899 in search of work.
Desperately seeking to support his family, Luigi Goretti struck up a bargain with Signor Serenelli, who had a son name Alessandro. The two families lived together in a building owned by Count Mazzolini.
Maria quickly matured in grace and holiness in the eyes of friends and other acquaintances. After losing her father to malaria, she developed great strength and maturity. Her charming modesty, cheerful obedience and the serious, but free acceptance of a hundred thankless home chores distinguished her from the other children who would play in the dusty streets of Ferriere.
Lured by the passions of his day and nurturing the dark side of his soul, Alessandro Serenelli had been a thorn in lovely Maria's side. He propositioned her on several occasions and harassed her. On July 5, 1902, he would be denied no longer. As she once again rebuffed his sexual advance, shouting, "No! It is a sin! God does not want it!". Alessandro stabbed Maria 14 times. After 20 hours of suffering during which she forgave and prayed for Alessandro, Maria entered into eternal life. Her last earthly gaze rested upon a picture of the Blessed Mother. It was July 6, 1902.
Maria Goretti's heroic story of love and forgiveness would not be complete without one of its first miraculous fruits...the conversion of Alessandro Serenelli, Maria's murderer:
Immediately after his brutal assault on young Maria Goretti, Alessandro was imprisoned temporarily in Nettuno and then transferred to Regina Coeli prison in Rome to stand trial. After vehemently denying his guilt, he finally broke down in the face of overwhelming testimony. Since he was a minor, he was sentenced to only thirty years hard labor.
In the days following, Alessandro lost his appetite and grew nervous. After 6 years of prison, he was on the brink of despair. Then one night, Maria appeared to him in his cell. She smiled at Alessandro and was surrounded by lilies, the flower symbolic of purity. From that moment peace invaded his heart, and he began living a constructive life.
After serving his sentence, he took up residence at a Capuchin monastery, working as a gardener. He asked pardon of Maria's mother and accompanied her to Christmas Mass in the parish church where he spoke before a hushed congregation, acknowledging his sin and asking God's forgiveness and the pardon of the community.
Forty years later, on June 24, 1950, Maria was canonized at St. Peter's Basilica in Rome in the presence of Maria's mother, Assunta, and murderer, Alessandro Serenelli.
The painting seen here of Maria Goretti was painted by a nun and it was said by Maria's mother, to be the best likeness of her daughter. It now hangs in the hospital room in which Maria died, now a chapel, in the city of Nettuno, Italy.