May 2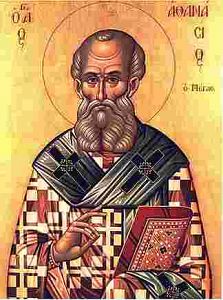 Bishop and Doctor of the Church
296 - 373, Egypt
St. Athanasius, a Bishop of Alexandria, was a great defender of the faith who fought against corrupt teachings his entire life. Persecuted by powerful secular and religious leaders of his day, Athanasius was exiled and deposed five times for defending Christianity's traditional teachings on the divinity of Jesus against the heresy of Arianism. He died at Alexandria in 373 AD after serving as bishop for 46 years. The strength and sustained value of his writings earned him the title of Doctor of the Church.
During the time of St. Athanasius, the heresy of Arianism was increasing its sway over elite figures in society, including other bishops. The heresy of Arianism denies the divinity of Christ in favor of a view that Jesus was a creature created by God. But St. Athanasius maintained his vigorous and faithful defense of the traditional knowledge of Jesus as part of one God, unified in the Trinity with the Father and the Holy Spirit.
Born of a Christian family in Alexandria, Egypt, and given a classical education, Athanasius was eventually elevated to bishop of Alexandria, where he led the fight against Arianism throughout the Church. Although Arianism was initially defeated at the Council of Nicaea and elsewhere, the heresy of Arianism began to attract followers in the ensuing years. Eventually, the First Synod of Tyre was convened against St. Athanasius by the Roman Emperor, who ultimately forced Athanasius into exile.
Interventions by counsels and supporters of St. Athanasius would restore him as bishop, while his detractors would contrive to exile and depose him again and again. In total, Athanasius was exiled five times. In later years, multiple councils and synods would vindicate St. Athanasius's views and confirm his innocence.
During periods of relative peace in his struggles, St. Athanasius wrote significant works on the ascetic ideal and important aspects of Christian theology. His writings in addition to his battles in defense of orthodoxy helped solidify him as a pillar of the Church for all time.
St. Athanasius, pray for us!