March 25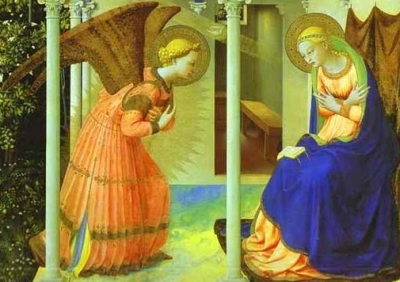 The annunciation to the Blessed Virgin Mary by Gabriel the Archangel that she was to be the Mother of God (Luke 1), the Word being made flesh through the power of the Holy Spirit. The feast probably originated about the time of the Council of Ephesus, c.431, and is first mentioned in the Sacramentary of Pope Gelasius (died 496). The Annunciation is represented in art by many masters, among them Blessed Fra Angelico, Hubert Van Eyck, Jan Van Eyck, Ghirlandajo, Holbein the Elder, Lippi, Pinturicchio, and Del Sarto.
"O God, who willed that your Word
should take on the reality of human flesh
in the womb of the Virgin Mary,
grant, we pray,
that we, who confess our Redeemer to be God and man,
may merit to become partakers even in his divine nature.
Who lives and reigns with you in the unity of the Holy Spirit,
one God, for ever and ever. Amen."
...Holy Mary, Mother of God, pray for us!