December 15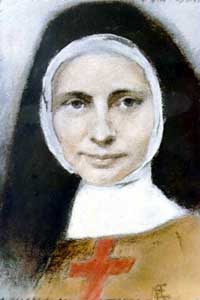 1819-1876.
Born & died in Aachen, Germany.
Daughter of Johann Heinrich Schervier, a wealthy needle-factory owner and vice-mayor of Aachen, and Maria Louise Migeon; god-daughter of Emperor Francis I of Austria. She ran her father's household at age 16 after the death of her mother and two older sisters to tuberculosis, and had a reputation for generosity to the poor. In 1844 she became a Secular Franciscan, and in 1845 she and four companions established a religious community devoted to caring for the poor. This group, Sisters of the Poor of Saint Francis, was approved by their bishop on 2 July 1851.
Their first community in the United States was founded 1858, and Mother Frances visited in 1863 to help her sisters nurse wounded Civil War soldiers. She visited the United States again in 1868, encouraging Philip Hoever in his establishment of the Brothers of the Poor of Saint Francis, and overseeing the foundation of several hospitals.
Cured of asthma in 1870 by making a pilgrimage to the healing waters of Lourdes. When Mother Frances died there were 2,500 members of her community worldwide, and the numbers continue to grow as they operate hospitals and homes for the aged.
"You are my friends if you do what I command you.... I am giving you these commands so that you may love one another." (John 15:14,17) If we do this faithfully and zealously, we will experience the truth of the words of our father Saint Francis who says that love lightens all difficulties and sweetens all bitterness. We will likewise partake of the blessing which Saint Francis promised to all his children, both present and future, after having admonished them to love one another even as he had loved them and continues to love them." - Mother Mary Frances, 1868, writing to her sisters