April 1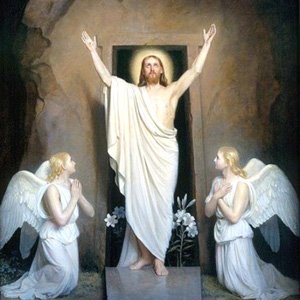 Alleluia! Jesus is Risen!
Easter Prayer of St. Hippolytus of Rome
(AD 190-236)
Christ is Risen: The world below lies desolate
Christ is Risen: The spirits of evil are fallen
Christ is Risen: The angels of God are rejoicing
Christ is Risen: The tombs of the dead are empty
Christ is Risen indeed from the dead,
the first of the sleepers,
Glory and power are his forever and ever.
Prayer for Easter Sunday....
Raise me up! Renew my life!
Father of life, I see the light again!
I was in darkness and had lost hope
but Jesus Christ, your son,
has won out over death - for me.
I celebrate today, your love, the life you give me.
I feel your presence as you breathe on my mind
and open my heart.
So many times in my life my eyes are closed
but today I see the risen Lord
in the breaking of the bread.
Thank you for this morning of hope,
thank you for such incredible love. Amen.