June 8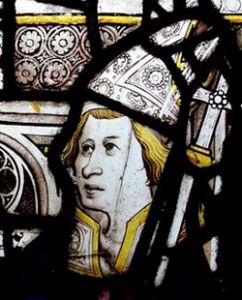 English. Died 1154, buried in the Cathedral of York, England.
William was an English priest and Archbishop of York. William FitzHerbert has the unusual distinction of having been Archbishop of York twice, both before and after his rival Henry Murdac. He was a relative of King Stephen of England, and the king helped secure FitzHerbert's election to York after a number of candidates had failed to secure papal confirmation. FitzHerbert faced opposition from the Cistercians who, after the election of the Cistercian Pope Eugene III, managed to have the archbishop deposed in favour of the Cistercian Murdac. From 1147 until 1153, FitzHerbert worked to secure his restoration to York, which he finally achieved after the deaths of both Murdac and Eugene III. He did not retain the see long, as he died shortly after returning to York, allegedly having been poisoned. After William's death miracles were reported at his tomb from the year 1177 onwards, and in the year 1227 he was declared a saint.
Prayer to St. William....
St. William, you were chosen by God to be Archbishop of York, but were unjustly accused of simony. Your election was opposed by many in favor of another. Even through all this, you never took your eyes off of Christ and his will for you. You devoted yourself to a life of prayer After many years, you were finally restored to the See that was rightfully yours. Instead of reserving spite, you showed the utmost amount of forgiveness and love for those who had before been in opposition to your election. Please help us to follow your example of perseverance and forgiveness so that we may forgive our transgressors and always persevere in the Lord's will. Amen.
St. William of York, pray for us!