June 8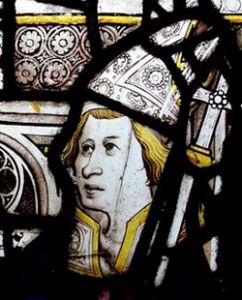 English. Died 1154, buried in the Cathedral of York, England.
A disputed election as archbishop of York and a mysterious death. Those are the headlines from the tragic life of today's saint.
Born into a powerful family in 12th-century England, William seemed destined for great things. His uncle was next in line for the English throne--though a nasty dynastic struggle complicated things. William himself faced an internal Church feud.
Despite these roadblocks, he was nominated as archbishop of York in 1140. Local clergymen were less enthusiastic, however, and the archbishop of Canterbury refused to consecrate William. Three years later a neighboring bishop performed the consecration, but it lacked the approval of Pope Innocent II, whose successors likewise withheld approval. William was deposed, and a new election was ordered.
It was not until 1154--14 years after he was first nominated--that William became archbishop of York. When he entered the city that spring after years of exile, he received an enthusiastic welcome. Within two months he was dead, probably from poisoning. His administrative assistant was a suspect, though no formal ruling was ever made.
Despite all that happened to him, William did not show resentment toward his opponents. Following his death, many miracles were attributed to him. He was canonized 73 years later.
Prayer to St. William -
St. William, you were chosen by God to be Archbishop of York, but were unjustly accused of simony. Your election was opposed by many in favor of another. Even through all this, you never took your eyes off of Christ and his will for you. You devoted yourself to a life of prayer After many years, you were finally restored to the See that was rightfully yours. Instead of reserving spite, you showed the utmost amount of forgiveness and love for those who had before been in opposition to your election. Please help us to follow your example of perseverance and forgiveness so that we may forgive our transgressors and always persevere in the Lord's will. Amen.
St. William of York, pray for us!