May 26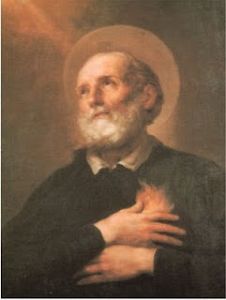 Italian. 1515-1595
If one had to choose one saint who showed the humorous side of holiness, that would Philip Neri.
Born in 1515 in Florence, he showed the impulsiveness and spontaneity of his character from the time he was a boy. His father was not successful financially, so at eighteen Philip was sent to work with an older cousin who was a successful businessman. During this time, Philip found a favorite place to pray up in the fissure of a mountain that had been turned into a chapel. We don't know anything specific about his conversion, but during these hours of prayer he decided to leave worldly success behind and dedicate his life to God.
Night was his special time of prayer. After dark he would go out in the streets, sometimes to churches, but most often into the catacombs of St. Sebastiano to pray. During one of these times of prayer, he felt a globe of light enter his mouth and sink into his heart. This experience gave him so much energy to serve God that he went out to work at the hospital of the incurables and started speaking to others about God, from beggars to bankers.
In 1548 Philip formed a confraternity with other laymen to minister to pilgrims who came to Rome without food or shelter. The spiritual director of the confraternity convinced Philip that he could do even more work as a priest. After receiving instruction, Philip was ordained in 1551.
Philip was known to be spontaneous and unpredictable, charming and humorous. Philip was very serious about prayer, spending hours in prayer. When asked how to pray, his answer was "Be humble and obedient and the Holy Spirit will teach you." Philip died in 1595 after a long illness at the age of eighty years.
"Cheerfulness strengthens the heart and makes us persevere in a good life. Therefore the servant of God ought always to be in good spirits." - St. Philip Neri
Prayer: Saint Philip Neri, we take ourselves far too seriously most of the time. Help us to add humor to our perspective -- remembering always that humor is a gift from God. Amen.
St. Philip Neri, pray for us!